WELCOME TO MY WEATHER PAGE
This page has many links for weather related information. My fascination with the weather goes back to 1954 . I still remember standing on my front porch watching the trees and power lines coming down during Hurricane Carol. Living in the Boston area I saw many hurricanes and blizzards but never saw a tornado. Back then they said it would never happen until Worcester Massachusetts was devastated with a high loss of life. In Vietnam I was struck by lightening but only lost my hearing for about a 1/2 an hour. I have been nailed twice since then following storms to get pictures of lightening. The picture below was taken by me out the back window of my house. The dark area in the upper right hand corner is in fact the edge of my house.
I now have a weather station set up at my house. Just click on My Weather Display site. It is tied into a laptop and a Lacross model 2210 weather station. The only numbers reading consistantly low is the wind because it gives an 8 second average rather than an actual reading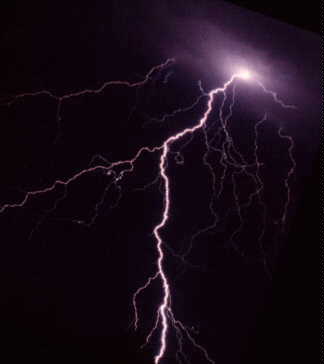 Have you ever sat a traffic light and had some idiot not move when the light turns green.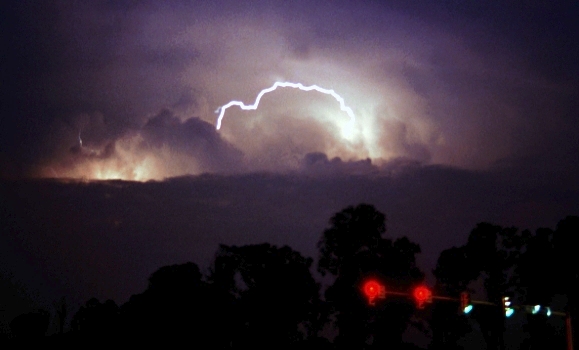 It could be that something else has their attention!!!
This first site is Intellicast which is a main link that most T.V. stations use. They recently modified this page so you have fewer choices in radar images but more world wide choices.
This site is an active hurricane tracking map that shows the strength and intensity of storms in the Atlantic. It also shows strike chances.
This site is the National Hurricane Prediction Center which has information on storms in both the Atlantic , Caribian and the Pacific oceans.
For those that want to see what the weather looks like from a mountain then Mt. Washington in New Hampshire is the place to go. Every year climbers and skiers get killed on it. It is also home to the world's worst observed weather. They have recorded the highest wind speed of 234 miles an hour.
For those that want to boat in the world's oceans or the great lakes then the Penn State WWW site Marine Buoy site Or The NOAA WWW Marine Buoy site will give you information from around the U.S.A. and the world.
For anyone that watches it on either cable , satellite or at the airport terminal here is the home page of The Weather Channel
This site is the Weather Radar Composite site which allows you to look at various image sources around the U.S.A.
This site has all the composite satellite images from various satellite sources. It also contains forecasts for flyers and boaters.
Here is the be all , end all , site to find out weather in Weather serversNorth America. It has links to 380 different sites. It includes all the T.V. stations that say they have some version of radar.
This is the Weather Service site is Sterling Virginia. It is located next to Dulles Airport and they test much of the new equipment now in use. They said that in fine tuning the Doppler Radar they found they could clock the speed of the cars going to and from Dulles Airport.