VIETNAM MEMORIAL GATHERINGS
---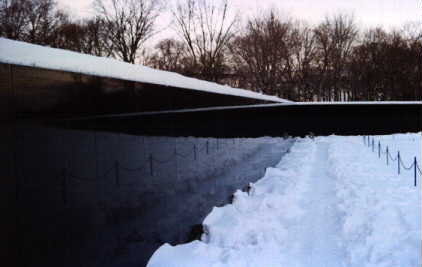 The WALL after the blizzard of 1996. It acquired new reflective abilities. It reaches for infinity.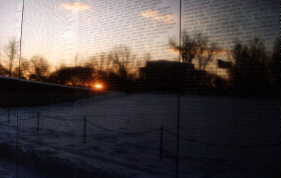 ---
The image below is me after the blizzard of 96. That's 1996 not 1896. I ran into a vet the day before that was on his first trip to the WALL who said it was real hard going there without also trying to walk in 2 feet of snow. The GUV was still out due to congressional indecision. I went down the next day and started shoveling. You'd be surprised how many guys stopped and asked to shovel some. They said it really meant something to them. The GUV had started back to work that day and they said I had to leave because I might hurt myself. The person that told me that was about 2 1/2 times overweight.


---
The picture below is The
"CAV"
Honor Guard on VETERAN's day.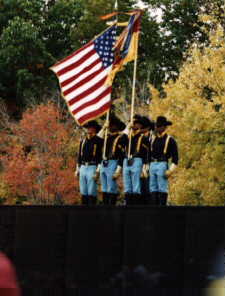 ---
This is me and my buddies at the WALL . This was during the dedication of the FIGHTING MEN. We were joking about the fact that there were so many guys walking around listening to the same little ear piece while THE PRESIDENT was speaking. We wanted to ask them which station they preferred to listen to. That's me on the left. Frank "THE BUSH" is next and was in LIMA 3/9 with the Marines. Kevin"FAT BOY" was in the 1st radio research in the ARMY. He spent TET on a hill with a bunch of MARINES. Boy! Talk about worrying about keeping your behind covered. Dave "WARDSO" was a CANNON COCKER with the 101st. He has yet to run into someone that was in country with the 101st when he was. I advised him that he was so good the division went home until it was time for him to rotate back then the division came back in country. That idea came up after we played a round of golf and then went back to the house where we had a case of beer to wash down 3 pizza's. I'm not really that tall but rather I am standing on the edge of the hill.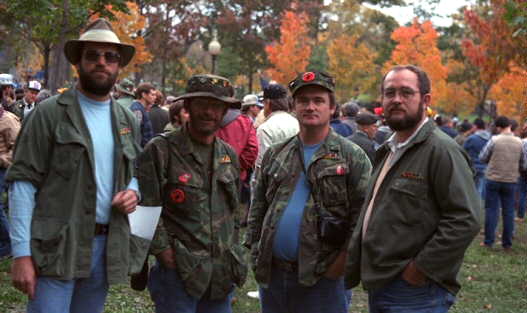 ---