MEMORIAL DAY
MAY 28 ,2001
Well as usual I was at the Wall for Memorial day wreath laying. This year I was surprised when I ran into a big bear hug from "Warwagon" crew chief Bill Hangman. Bill is also a "part time" LOH pilot because his pilots kept getting shot to crap. He in turn got to meet John Davis who was a Longknife Crew Chief in 67 and 68. I in turn was a Scavenger in 68 and 69 while Bill was a Warwagon Crew Chief in 70 and 71.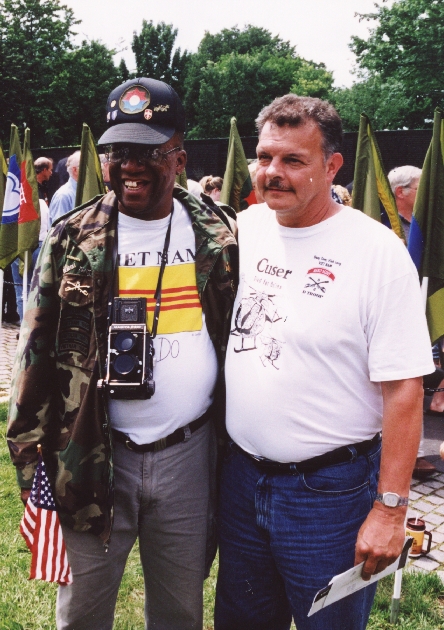 On the Left is John Davis and on the right is Bill Hangman. Both are still as slim and trim as they were in Nam. John "J.D" did 4 tours in Nam and retired from the Army to work at FT. Bevoir where he still maintains Huey's for the Military District of DC. Bill works for the Police department in Minnesota.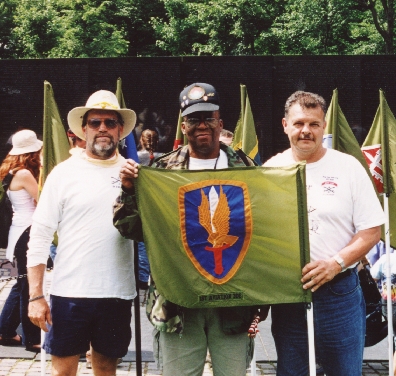 Next we have myself on the left with J.D. and then Bill. That is a First Aviation Banner that we are in front of.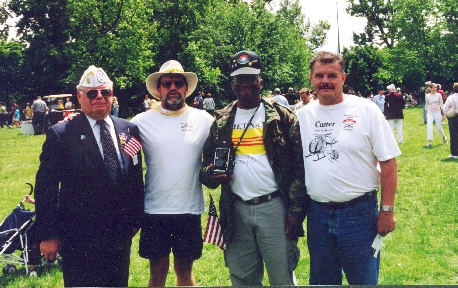 In this shot we now have Harold Grimes on the left and he was with C troop 3/5 Cav from 67 and 68 while the rest of us were in D troop 3/5 Cav. Harold works for a group called "Uniformed Services Disabled Retirees". They are working on getting the law changed that prevents an individual who has retired from the military to get both a pension and disability compensation from the V.A.
Well if you like my photos or want to make some comments then let me know at cavman@lighthorse-scavenger.org

---
---
.