KOREAN WAR MEMORIAL WASHINGTON D.C.
---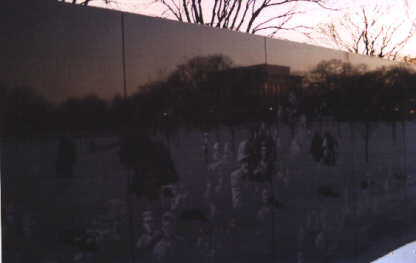 This shot was taken late in the day looking at the wall that is part of the Korean Wall Memorial. In the face of the wall is etched images of people that were submitted to the architects of the wall. It represents all of the different services that were involved in the so called POLICE ACTION. The memorial is also composed of the statues of the fighting men of all the services involved. The reflection on the wall is of the statues of the men along with the Lincoln Memorial that is to the west which has the sun setting in back of it.
---
This is several of the statues of the men on a patrol. They are representative of all the men of each of the services. Some are wearing their cold weather gear and some are wearing warm weather clothing. They all have the gaunt look that all fighters have when any war has carried on for to long. In VIETNAM we referred to it as The Thousand Yard Stare.
---
This is the dedication stone.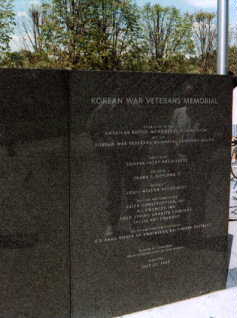 ---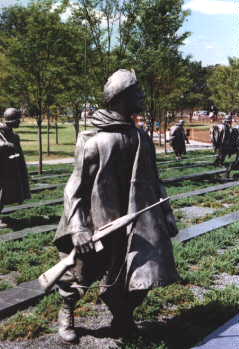 This is several of the fighting men. They are all on patrol and at the rear the last man is looking over his shoulder to make sure that no one is left behind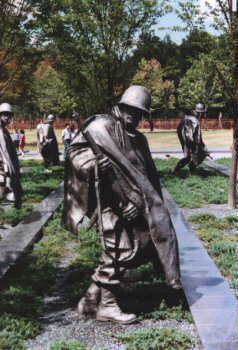 .
---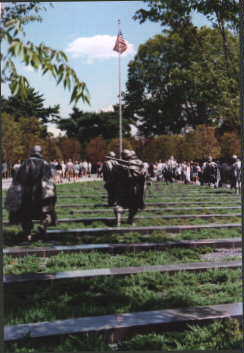 These are two different views during the summer. The one BELOW shows the wall and it's reflective abilities. The bald tourist is me taking the picture. The men on the patrol are in back of me. The view ABOVE is taken from the back of the memorial facing forward. It goes up through the men on patrol to the flag and a pond.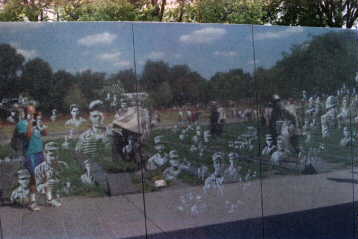 ---