JUST ANOTHER NIGHT AT DONG TAM
I was luckier than most guys in Nam because I could hit a cot to sleep on but then again I had to put up with a lot more mortar attacks that most. It was part of my job. From early on I worked all night long at both Bearcat and Dong Tam. It was easier this way to have all of our aircraft available for the next day's mission. The trouble was because of the mortar attacks we also often had to spend more time fixing the aircraft up from damage they sustained in a nightly attack than they had from the daily missions. The NVA /VC weapons of choice in the Mekong Delta were 82 MM(80 duece) mortars , recoilless rifles, 107 rockets and lastly the 120 MM mortar. It is the same as the US Army's 4.2 '' mortar. We dreaded those the most because you had little warning and it will go through a lot of overhead protection and blow the crap out of everything. The following pictures and 9th division report are from just one night.
---
' DAILY STAFF JOURNAL OR DUTY OFFICER'S LOG (AR 220-3<6)
NO. 1
NO OF PAGES 1
ORGANIZATION OR INSTALLATION LOCATION PERIOD COVERED
g-3, 9th Avn Bn DONG TAM, RVN FROM TO APO SF 9630
HOUR 0001 DATE 6 Mar 69 HOUR DATE 6 Mar 69
NITE TIME INCIDENTS. MESSAGES ORDERS, ETC.
ACTION TAKEN INITIALS IN OUT .",
BS 1 0001 JOURNAL OPENED
BS 2 0650 Relieved by SPC TUCKER
BS 3 1730 Reported for duty as 8-3 CQ.
BS 4 1830 Entered DISCOM's Net, and Commo check.
BS 5 2200 Received B Co IO report,
BS 6 2250 Received Co IO report,
BS 7 2255 Combined A&B IO reports Called results to ACT. SFC Niesen
BS 8 2308 Red Alert: Rockets impacting in heliport Area. Notified all Companies.
BS 9 2400 Received message from DISCO14: Alert status GREY effective 2400 Notified all Companies,
SUMMARY During the reporting period the Battalion supported the Division operations; flying JP 378 Sorties, 133hrs., carrying 332 passengers And 5 tons of cargo.
Gunships expended 30,885 rounds of ammo destroying 3 structures and 12 sampans, also killing 25 VC.
Dong Tam heliport was attacked once with rockets during the Period. Results: 3 WIA from D 3/5, 3 LOH' s (2 major 1 minor) 3 Cobra' s (All Major)1 UH-1 H (major): all From D 3/5.
2 9th Avn Bn vehicles were damaged. M Phillips "U 9t Avn Hz s-3 2400
JOURNAL CLOSED. Bs TYPED NAME AND GRADE OF OFFICER OR OFFICIAL ON DUTY Smith, Buddy M. SFC SIGNITURE Buddy h. smith
---
On this night they bracketed the hanger with 82 mortars and just as we dove into the bunker they hit the far end of the hanger with a 120 MM contact mortar. Below is the where that round hit. All those dots are shrapnel holes.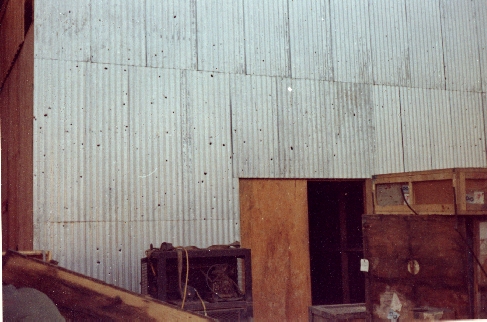 The next round was a delay fuse 120 MM mortar that landed directly in front of the bunker which was made out of bundels of PSP. Those chunks on the ground around Haskins are concrete. They built the pad by using a road grader to level out the concrete mix to a uniform 8 inches thick.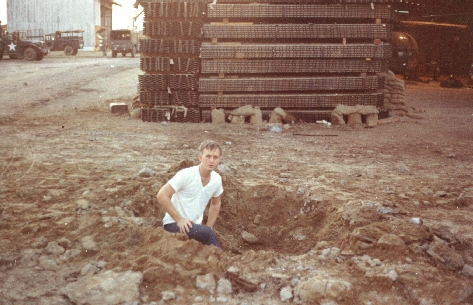 The next round landed directly in front of our Ammo connex. It hit on top of the acetelene tanks we used for welding. They all burst into flames and several were launched across the compond area. The connex contained all of small arms , ammo and grenades that our crew chiefs had for their ships.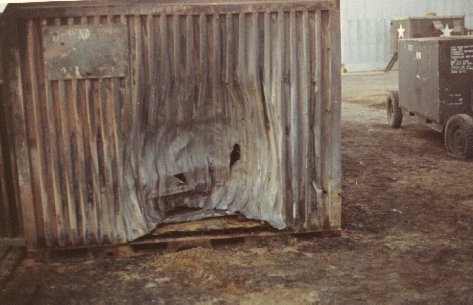 The next round hit on the pad where we normally kept our C+C ship. It just happened to be elsewhere that night.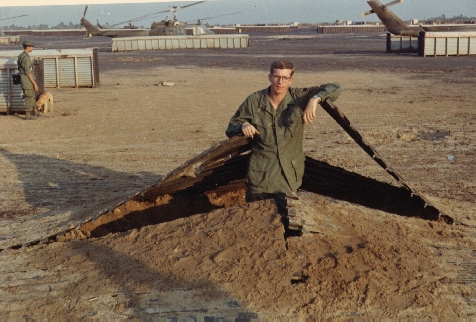 The shrapnel blew across the hanger and up at the same time. It went through the roof of the hanger. The white dots are all shrapnel holes in the roof.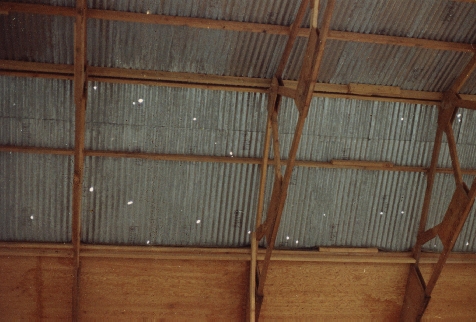 It went sideways and hit several of the cobra gunships including this one. However the helicopters being in the line of fire also saved those of us as we dove into the bunker.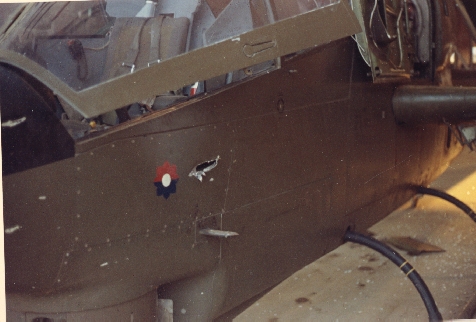 It also hit a several slicks that were in front of the bunker.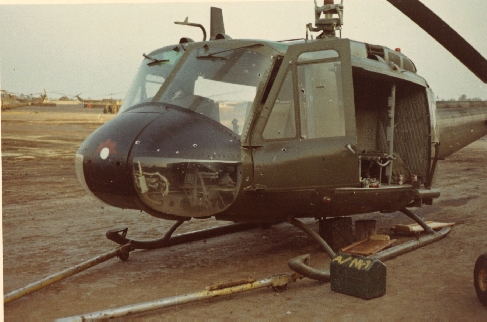 The end result was that only three were wounded by shrapnel as they dove into the bunker. That was the only night we quit working and got very drunk after that. All of the rounds landed about 3 feet short of their intended target. If they had been on target then myself and the other 10 that were in the bunker would have been killed instantly , the ammo connex would have blown up and the hanger would have colapsed.
This was not the only time that Dong Tam was hit by 120 MM mortars. On another night they blew up the ammo dump. Those of us that were there can testify to the presance of the "BIG BANG" theory. 500 tons of ammo went up.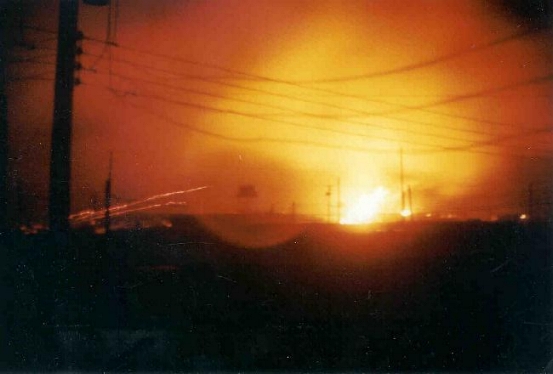 Well if you like my photos or want to make some comments then let me know at cavman@lighthorse-scavenger.org

---
---